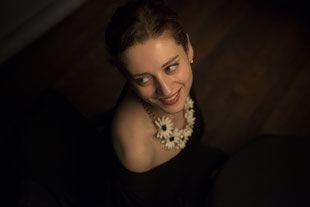 My advice for singers is always : keep it alive !… Sarah Thorpe is doing just that. Young, fresh and full of ideas (I love her version of Mack the Knife !). Bravo !
Michele Hendricks
Never Leave Me has been given the "Discovery" award in the French magazine Jazz Hot :
Sarah Thorpe takes us on a sensitive walk … asserting her own world between jazz and rhythm 'n' blues carried by the inspired arrangements of Olivier Hutman … "Mack the Knife" played as a luminescent ballad is radically transformed with Sarah Thorpe's new lyrics. It stands out as the album's tour de force… The recording is remarkable for the good taste of its aesthetic choices. It ends with a beautiful cover of Nina Simone's «The End of the Line».
Patrick Martineau, in Jazz Hot n°674, hiver 2015-2016
Of French and British ancestry, Sarah Thorpe grew up near Paris and in Yorkshire as well. She trained at the Bill Evans Academy in Paris, took piano lessons with Joe Makholm and honed her natural voice with the best vocal coaches, Daniela Barda, Geraldine Ros, Sara Lazarus and Michele Hendricks. 
Sarah Thorpe made a name for herself singing in the clubs in Paris (Sunside, Autour de Midi et Minuit, Cercle Suédois…) and London (Primo Bar, Oliver's Bar…) playing alongside great musicians such as Darryl Hall, Alain Jean-Marie, Ronald Baker, Nicola Sabato, Hugo Lippi, Michel Pastre, Jonathan Gee, Ray Layzelle, Laurent Epstein, Yves Brouqui, Nicolas Dary, Jeff Hoffman…
She knows her standard songbook but what puts the swing in her stride is the music of Carmen Lundy, Dianne Reeves, Carmen McRae, Mary Stallings as well as the great soul singers, Aretha Franklin, Ray Charles, Randy Crawford, Jill Scott and Erykah Baduh. Sarah Thorpe is always trying to make the jazz world connect with that r 'n b feel. This has helped her define her own style, both subtle and passionate.
No wonder her songbook is so original.
Sarah Thorpe usually plays as a duet (piano/ voice), with her trio or her sextet and presents different programmes:
- Tribute to Nina Simone
- From Ray to Aretha, the rhythm and blues band
- Never Leave Me Project
A soulful groove, a steaming horn section and powerful tunes—the perfect setting for the new voice of jazz!
For her first album, when she started working with peerless pianist Olivier Hutman, an expert when it comes to backing a singer, Sarah Thorpe was able to give shape to her project. Her style and the themes she wanted to develop came through during months of working in common.
Never Leave Me (Songs of Love and Longing) is rather self-explanatory. It is about love and its tribulations, its novelty and terminations. To tell those stories, there had to be a funky side and a tender side. So that's what you're getting here—strong-willed declarations with "Gonna Leave You" and "Just Say Goodbye », a fatalistic "The End of the Line », the light-hearted Latin groove of "Para Raio", the enthusiastic "Better Than Anything" or the passionate "Never Leave Me"…
To bring fever to a rumba, soar through rhythm and blues grooves and set fire to standards, one needs some serious players! Sarah Thorpe has put together the ideal band to play her mix of bluesy exuberance, arresting ballads and contemporary swing.
Brilliant Baltimore trumpet player Ronald BAKER (Antonio Hart, Jesse Davis, Michele Hendricks), tasteful tenorist and flautist Guillaume NATUREL, the inspired Olivier HUTMAN, the superb groove of Philadelphia bassist Darryl HALL (Kenny Barron, Ravi Coltrane, Regina Carter, Dianne Reeves, Didier Lockwood, Bireli Lagrene) and stalwart rhythm machine Philippe SOIRAT (Phil Woods, Craig Handy) work together with tremendous power!
This is a varied and consistent project, celebrating the discovery of a new voice, a fresh and vibrant musical world. Her energetic blend of jazz and soul keeps up incredible standards of enthusiasm and elegance.
Check out Sarah Thorpe's Never Leave Me project!!