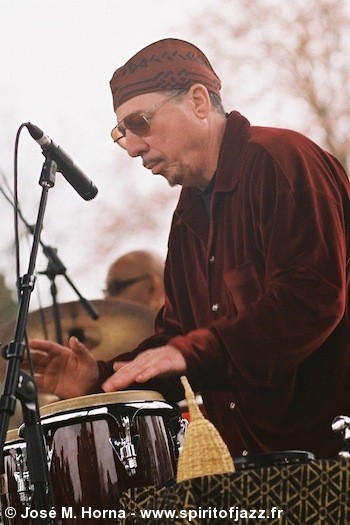 The Spirit of Life's universal appeal is grounded in the ebullient 70's. It was founded by poet, activist, boxing-champion and percussionist Daoud-David Williams in 1975 and quickly became part of the underground loft scene in New York. Since then, the band has gained international recognition.
Although it is based in Jersey City, the SOLE is convinced that the destiny of jazz is to reach everyone in the world. Daoud-David Williams's enthousiasm for spreading the gospel of jazz and his belief in the power of artistic commitment inspired him to create an original collective dedicated to sharing their music.
Jazz with a world beat! Ceaselessly travelling across the globe, the Spirit of Life Ensemble share their proud motto with delighted audiences in clubs and concert halls, in festivals and schools. Latin grooves, African and Eastern sounds are always firmly grounded in jazz thanks to an impressive line-up. Dozens of legendary musicians have been members of the SOLE, including Archie Shepp, Randy Weston, Pharoah Sanders, Eddie Jefferson, Bennie Powell, Eddie Henderson, Kenny Barron, Guilherme Franco, John Hicks, Talib Kibwe, Michael Cochrane, Joe Ford…
As artists in residence in Jersey City, the Spirit of Life Ensemble are devoted to teaching and sharing and working with people around the world from Japan to Finland by way of Berlin or Paris.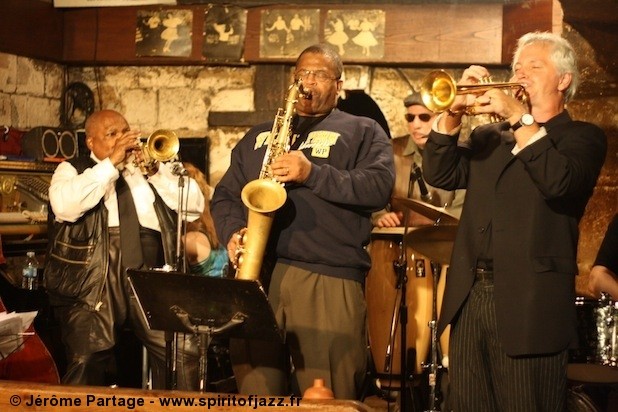 Their very rich recorded history shows the continuity and the evolution of a jubilant musical approach that is showcased in numerous albums. Spirit Energy is the title of a documentary that film-maker Julien Marrant directed and featured as a DVD bonus on their album A Little Oasis.
The SOLE's swing may borrow from funk and various types of music it is still rooted in blues and jazz. Their indomitable energy has been the driving force of the band for more than 35 years.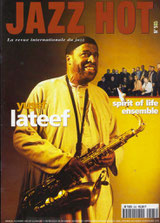 The French magazine Jazz Hot acknowledged their work and devoted their November issue in 1999 to the band, with many interviews featuring Bob Ferrel, Cleave Guyton, Mamdouh Bahri, Michael Cochrane…
The Spirit of Jazz Ensemble is also about a certain friendly French-American spirit whose roots lie deep in the 1930's when French critics Charles Delaunay and Hughes Panassié, the founders of Jazz Hot, were so instrumental in exploring the depth of jazz music. For the past 20 years, the Spirit of Jazz Ensemble has thus been heard in the great Paris jazz clubs, the famous cellar of swing music called the Caveau de la Huchette, the Sunside, the Duc des Lombards, the Franc-Pinot… Many French musicians have taken part in their fiery and adventurous musical adventure: Philippe Combelle, Eric Jacot, Mina Agossi, Mamdouh Bahri…