Payment:
PayPal, credit card (using the PayPal platform, even if you do not have a PayPal account), check (from France only), money order (no commission).
Spirit of Jazz Records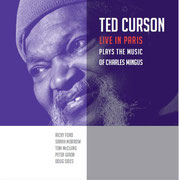 Ted Curson. Live in Paris
TED CURSON : trumpet, flugelhorn, piccolo trumpet RICKY FORD : tenor saxophone ; SARAH MORROW : trombone TOM McCLUNG : piano ; PETER GIRON : bass ; DOUG SIDES : drums   Recorded in 2008. Liner notes by IRA GITLER ... (
Lire la suite
)
15,00 €
Ted Curson
In October 2008, Spirit of Jazz organised a tour showcasing legendary Philadelphia trumpet player Ted Curson. It culminated with a magnificent concert at the Sorbonne University devoted to the music of Charles Mingus played by a roaring sextet that featured saxophonist Ricky Ford and trombonist Sarah Morrow. The band's swing shook the old walls of the university!
This album celebrates the musical memory of a night to remember.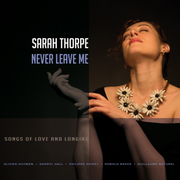 Sarah Thorpe
Sarah Thorpe's touching soulful voice, torn between emotion and strength, reinvents rarely covered tunes with a superb supporting band of artists who have played with Dianne Reeves, Michel Legrand, Kenny Barron… Whether she swings or sighs, there's a moving freshness to her voice—but no schmaltz at all as dynamic interaction and groove pervade the album. Never Leave Me is about love and its tribulations, its novelty and terminations. To tell those stories, there had to be a funky side and a tender side. So that's what you're getting here—strong-willed declarations with "Gonna Leave You" and "Just Say Goodbye », a fatalistic "The End of the Line », the light-hearted Latin groove of "Para Raio", the enthusiastic "Better Than Anything" or the passionate "Never Leave Me"…
The recording is varied but completely consistent. It really showcases Sarah Thorpe's personality and sound. It is both classic and original, elegant and funky, with a touch of Horace Silver and a sprinkle of grittiness. There's bounce and meditation, emotion and smoking interplay. Above all there's honesty and haunting melodies. It's actually very difficult not to hum these tunes once you've heard them…
A very mature first album!
Friendly Productions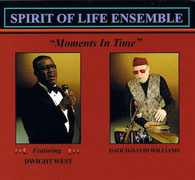 Spirit of Life Ensemble. Moments in Time
DWIGHT WEST : vocals DAOUD-DAVID WILLIAMS : percussions, leader ; ROB HENKE : trumpet, music director ; DAVID ROBINSON : tenor sax ; CORNELL McGHEE : trombone ; MICHAEL COCHRANE : piano...   Recorded in 2013.   ... (
Lire la suite
)
15,00 €
The Spirit of Life's universal appeal is grounded in the ebullient 70's. It was founded by poet, activist, boxing-champion and percussionist Daoud-David Williams in 1975 and quickly became part of the underground loft scene in New York. Since then, the band has gained international recognition.
Moments in Time, new Spirit of Life's record (released in February 2014) features the great vocalist Dwight West.